What is the Alliance?
Founded in 1999, the Renault-Nissan-Mitsubishi Alliance is the world's leading automotive partnership created to support member-company competitiveness and profitability.
This unique model leverages the leadership strengths of each member company, uniting their skills, talents and technologies to streamline idea sharing, fast-track innovation, improve cost-efficiency and add value.
Solid Foundations
Backed by more than two decades of close cooperation, the Alliance has built a powerful framework of performance and value growth. It's now the 3rd largest global player and becoming the world's leading generalist manufacturer of electric vehicles.
With $15 billion invested in R&D and Capex each year, the Alliance makes innovation a priority and covers all customer needs across all major automotive markets and geographic regions.

Efficient governance
The Alliance Operating Board is thoroughly committed to responsible value creation through fluid, agile decision making. It benefits from balanced representation composed of seven executives across its three member companies.
The Board meets in monthly sessions to define how the Alliance can support each company's goals and plans, and to address the main fields of operational activities and strategic topics, such as sustainability, vehicle line-ups, regional stakes, platforms and technology roadmaps.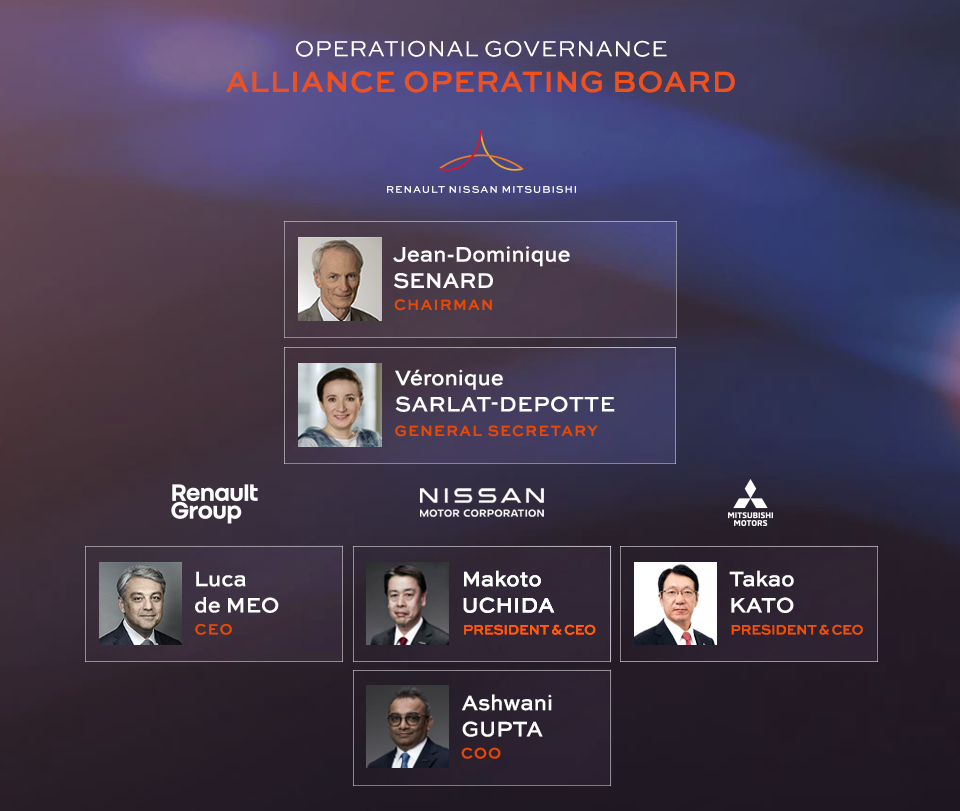 Innovation sharing
One of the Alliance's most competitive advantages is its ability to strengthen its members by sharing what each one is best at.
Through its Leader-Follower scheme, the member most advanced in any given area – whether platform, plant, powertrain or battery – takes on the 'Leader' role and shares its expertise with the other two partners. Because each company has access to the Alliance's full range of assets, they don't have to redevelop everything from scratch.
This approach allows member companies to acquire the most up-to-date technologies while reducing costs, lowering prices and thus increasing business performance and innovation. It has been a key enabler of the Alliance's continuous success. Today, 60% of its models already benefit from common platforms.